Discounted Sunset House Hotel and Dive Packages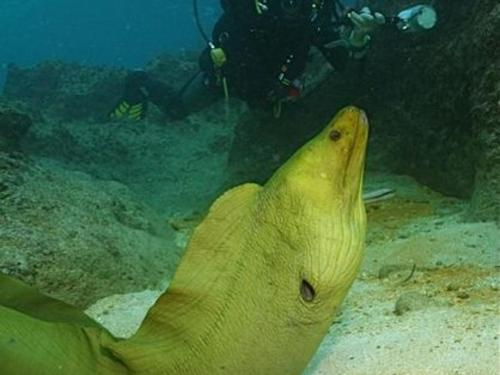 Dive and Non Dive Packages
When booking your entire stay with us (room, diving, breakfast, etc), you are entitled to the best price offered. Room only prices are approximately 20% higher. For those wishing to book room only or one of our discounted package, please call our reservations department on our toll free reservations hotline 1 800 854 4767.
When you call, have your dates ready & number of guests staying in the room. The nightly rate will include:
Air Conditioned accommodations w/Digital Cable TV & Telephone
A Welcome Alcoholic or Non-Alcoholic Beverage of your choice
Welcome Gift
Taxi transfers from and to the airport (see below)
All Tax and Service Charges

For those wishing to go diving, please have the number of days ready too.
Dive Packages also Include
Daily two-tank boat trips, except day of arrival and departure
Tanks for shore diving are complimentary on those days that boat diving is paid for
Tanks, weights and belt
Complimentary dive gear locker
Want Nitrox, we can add this on by request.
* Airport Transfers are done by taking a taxi from the taxi stand at the airport, where they will give you a receipt to give to us for reimursement or we will take it to the driver if you wish. You maybe with a group trip where a representative from IslandLUXE Concierge Services will be there with your group's name waiting for you to pick up in large vans. This will be communicated with your group leader.
We use IslandLUXE Concierge Services to send you back to the airport.
Repeat Customer Discount Program
We appreciate loyalty from our repeat customers and want to give them a 10% repeat discount for guests who booked directly with our reservations department and have stayed with us in the last 18 months. (Based on your accommodations and diving portion of your package) Not applicable for certain events! Please email or call Kim for your special Repeat Package at 800.854.4767.
Hurricane Protection Policy
This program eliminates the concern of guests losing their deposit or total package price should bad weather or "Acts of God" get in the way and is not covered by normal travel insurance. Our hurricane guarantee is no substitute for TRIP CANCELLATION AND INTERRUPTION INSURANCE. All guests are strongly encouraged to purchase this coverage as it provides additional coverage options that Sunset House and Sunset Divers do not offer.
Sunset House will give travelers 18 months to complete their travel stay if the Cayman Islands Government declares a Hurricane Watch within the time frame of their immediate trip. A Hurricane Watch is defined as Hurricane conditions are possible in the specified area of the WATCH, usually within 36 hours.
A Hurricane Warning conditions are expected in the specified area of the WARNING, usually within 24 hours. Guests that are already on property when a Watch or Warning is declared will be able to use any unused portion of their ground package within the following 18 months.