Stingray City
Tuesday and Friday
Cost: US$ 75.00 per person.
Departing at 1:30 PM, returning at 5:00 pm
Dive time is about 45 minutes – 1 hour
Sign-ups sheets are found at the dive shop.
Stingray City is a series of shallow sandbars found in the North Sound of Grand Cayman. Here, southern stingrays are found in abundance. The stingrays, perhaps, began gathering in the area decades ago when fisherman returned from fishing and cleaned their fish in the calm water of the shallows and sandbar area. Soon, the stingrays associated the sound of a boat engine with food. As this practice turned into a tradition, divers realized that the stingrays could be fed by hand. Today, tour boat passengers disembark and enter the chest-high water to interact with the stingrays.
2 Tank Dives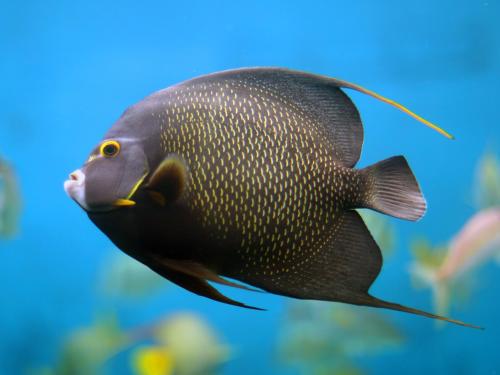 Daily
Leaves 8:00 AM and returns 4 hours later
Cost: Included in Dive Package*
Please check the manifests in the dive shop to see what time and what boat you are to go out on. Depending on the number of boats going out, times are staggered about every 10 minutes going out. Once on board our custom dive boats, we pull offshore a few hundred yards and proceed with a boat vote. If you heard of a good site or have been to a specific site before, let us know. If we can get you there we will!
*Reservations: The 2 tank dive is open to any Sunset House Guest that is pre-booked on one of our dive packages. (Our packages include complimentary shore diving on day of arrival and your boat diving days) If you're on a pre-booked dive package, there will always be space for you on one of the boats and your discounted package includes this trip for the number of days you pre-purchased. If you're not staying at Sunset House or booked room only at the resort and are not on a pre-booked dive package, give us a call 24 hours in advance and we'll make arrangements to take you diving as space is available. Price is US$130.00 per diver. Shore Diving is US$15.00 per tank. If you are not certain if your package includes diving or not, call reservations at 1 800.854.4767 or on island 345.949.7111.
Night Diving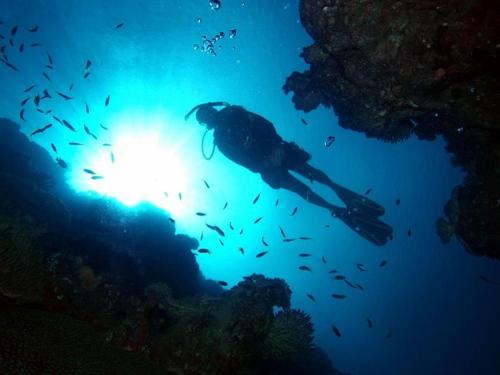 Monday Night or By Demand
Cost: US$ 80.00 per person.
Guided Shore Night Dive: Available Monday night from shore, enjoy a guided night dive led by one of our Instructors. With a group of six or more divers we can offer a boat night dive and take you to any of the numerous dive site just minutes from our dock.
Come into the dive shop anytime and put your name on the Night Dive sign up sheet.
Often, divers request a dive on the wreck of the Balboa. This is a wreck just minutes from the dock and located in the Harbour. Night diving in the clear warm water of the Caribbean is as good as it gets! Remember night dives are not included in any packages so make sure you sign up at the dive shop as soon as you check in to reserve your spot!
Unguided Shore Diving: If you want to do a night dive in your buddy group from shore just come on in and sign out a tank before the dive shop closes. Put the tank in your locker until your ready to go night diving.