Sunset Divers
The Cayman Islands 365 dive sites are sure to leave even the most seasoned divers awestruck, yet so easy for brand new divers; with deep dramatic walls adorned with sponges and corals, shallow reefs of fish and small invertebrates, and an assortment of famous wrecks, all in perfect 80 degree Fahrenheit (approximately 26 degrees Celsius) water. Visibility often exceeds 100 feet revealing some of the world's most diverse aquatic life. Grand Cayman is home to the worlds' best 12-foot dive, the legendary Stingray City and the ex-USS Kittiwake.
With an abundance of experienced, highly professional Sunset Divers instructors from all over the world (we can teach in 5 different languages), numerous snorkel and scuba diving sites accessible by boat or straight from shore, Sunset House is the ideal setting to explore or learn to explore the underwater realm. Whether you choose to snorkel or dive from our legendary reef just off shore, seek a thrill filled wreck dive, an amazing wall dive, or want to learn how to dive, Grand Cayman and Sunset Divers has a dive site for you.
All of our boats are staffed by highly experienced instructors who are on hand to share their wealth of local hints and tips. And it is never too early to get into the swing of things. Irrespective of your experience level, we have a trip to suit you. PADI courses are available to help you get the most out of every trip. The professional guides and crew always work tirelessly to make sure your dive vacation is memorable for all the right reasons. Let Sunset House and Sunset Divers take all the stress out of travel so you can spend more time diving. And thanks to our fleet of six custom dive boats and our unique location on Grand Cayman we have the ability to dive the seas that are calm, West or South anytime. Additionaly, Sunset House house has a North Side Dock for departing to Sting Ray City, and world-class shore diving right from our property. Unlimited shore diving is included in all Sunset House Resort dive packages on days of arrival and paid boat dive days. (*Notice to folks not staying at Sunset House. There are events for Sunset House guests only that may close the shore diving off to outside guests and residents. If you are basing your holiday stay on just shore diving with us, while staying elsewhere, please call to confirm that your stay does not conflict with one of these events.)
Sunset Divers have numerous diving options. Take a morning 2-tank dive, then have a sumptuous lunch at My Bar followed by a swim in the Caribbean waters. Or perhaps it's an afternoon dive, or a night dive. We have many customers that easily can make 5 dives a day staying with us. The dive shop has a dive site map and the dive staff would be happy to brief you on the highlights of the dive so you don't miss any of the main features, like Amphitrite, the Siren of Sunset Reef. The 9′ tall bronze mermaid statue or the wreck of the David Nicholson.
The stride into the ocean for shore dives is about 20 yards from the pool and bar…where you land in 13 feet of Caribbean water. There you can do some buoyancy checks, make sure everything is working and away you go. We have resident turtles and eels and even a manta ray has been seen on occasion. The dive shop has a site map for you to look at before diving and guided dives are offered for anyone that would like a little moral support on the first dive.
Rising from the ocean bed in the clear waters of the northern Caribbean Sea lies a massive underwater mountain range known as the Cayman Ridge. Three of its spectacular peaks break the surface of the water to form the islands of Grand Cayman, Cayman Brac and Little Cayman. To the north lies the island of Cuba and to the east Jamaica. The water is deliciously warm and the diving is easy. No rivers deposit sediment into the crystal clear waters that are said to be amongst the least polluted in the world. The islands are surrounded by fringing reefs with staghorn coral, canyons, pinnacles, archways and of course, the magnificent walls that provide the necessary protection for all varieties of marine life while still enabling the larger pelagic species to come within reach of the diver. Because diving is such a major part of the tourist industry, diving in the Cayman Islands has become highly organized and very professionally run. The diving industry, together with the government, formed the Cayman Islands Watersports Operators Association (presently called the Watersports Sector of the Cayman Islands Tourism Association CITA), which sets the highest standards in diving safety, boat operation and diving guides. The creation of permanent mooring sites and continuing environmental education all help to preserve the health and delicate ecology of the reefs and their associated marine life.
Recommended on TripAdvisor
Safe Diving Standards of the CITA
Sunset House and Sunset Divers are members of the Cayman Islands Tourism Association. The CITA Watersports members subscribe to and comply with safety rules and regulations designed to keep the diving safe and to protect marine environment. The organization has also influenced local government to enforce marine conservation laws, install moorings buoys and initiate other policies for sustainable tourism. CITA members comply with a recommended 100 feet (30 meters) for recreational scuba customers. The required maximum depth with recreational scuba customers is 130feet/39meters and 100feet/30 meters for repetitive dives the same day. Since our days start with a two tank dive, Sunset Divers sets a safe 100′ safety limit and all divers are required to stop on the way to the surface on the completion of your dive for a 3 minute safety stop at 10 to 15 ft deep.
During the pre-dive and snorkeling briefings, everyone is advised to observe the CITA's rules of safe diving, including their "hands and fins" off policy for all marine life! This also applies to the use of gloves while diving. If you are in need of gloves to go up and down the anchor line, once at the bottom, you will be asked to remove your gloves to help protect coral growth and fish health.
Divers Alert Network Dive Accident Insurance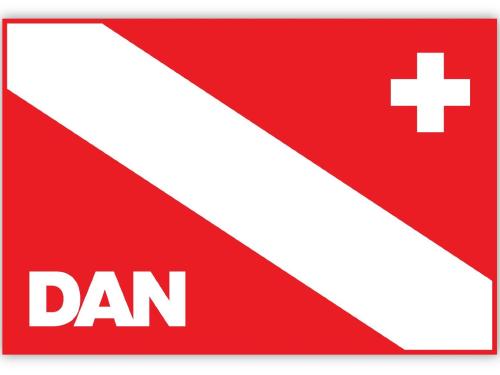 The benefits of DAN membership include emergency medical evacuation assistance through DAN TravelAssist®, a subscription to Alert Diver magazine and access to DAN's insurance services.
DAN Members receive $100,000 of emergency medical evacuation assistance coverage. This benefit is valid for diving and non-diving medical emergencies anytime you travel more than 50 miles from home for all listed family members.
DAN TravelAssist offers around-the- clock access to skilled support such as prescription assistance, medical monitoring, emergency messaging, translator referrals and more.
Alert Diver is now available on iPad and Android, this award-winning publication is shipped exclusively to DAN Members and features the latest in dive safety, education, medicine, travel, photography and more.
Get your Annual Divers Insurance including emergency medical insurance from our Industry Partner at Divers Alert Network (DAN)
If you do not want to pay for a full annual membership, Sunset House has something only a few other dive resorts have anywhere in the world.
We are the very first to carry DAN Short Term Dive Insurance! Sunset House, Grand Cayman's Hotel For Divers, by Divers, is the first in the world to offer divers that do not carry any annual dive insurance coverage, a choice between two different policies during your stay here!Still great coverage! Diving Accident/Illness Medical Treatment and Emergency Evacuation US$100,000.00, plus much more…