Sunset House: My Bar A legendary local favorite
In this day of teardowns and modern buildings being erected, it's refreshing to see that some of the venues from our youth are still standing. Sunset House's "My Bar" is one such venue – an oasis in the form of a large, thatch-roofed building that overlooks the water, where many happy memories have been created by families over the years.
My Bar is a local staple for many residents, and is a popular choice of divers. This is hardly a surprise, as with Sunset Divers on-site, and Cathy Church's Photo Centre located in the main building, divers gravitate towards the property.
On any given day, the odds are good that you'll encounter Jose Dias behind the bar. Originally from Goa, India, Jose has worked at My Bar since 2002, and clearly has no plans to move to another place anytime soon.
"This bar is really fun," he says, "with lots of friendly people around, great regulars, a terrific view, and a nice boss [laughs]."
One of the most popular drinks he pours is fresh beer from the Cayman Islands Brewery. My Bar features Ironshore Bock and Caybrew on tap, which go perfectly with the menu of tasty fare that gets served up in the open air.
"The draft products are very popular," says Dias. "We sell a lot of this beer to residents and tourists."
The dishes on the menu range from fish tacos and conch fritters to burgers and fish and chips, with a selection of salads for those who prefer the lighter side of life.
After the great beer and food, probably the biggest selling point of My Bar at Sunset House is its atmosphere and view. Even on the hottest days of the year, there is a lovely breeze moving through there, and people can either sit at the bar, or take a seat at one of the many tables on the large deck.
It's a relief to see that a local landmark like My Bar is still a great success and going concern, so it just makes sense to order a cold, refreshing local beer from the Cayman Islands Brewery when you're sitting back and enjoying the sunset, island style.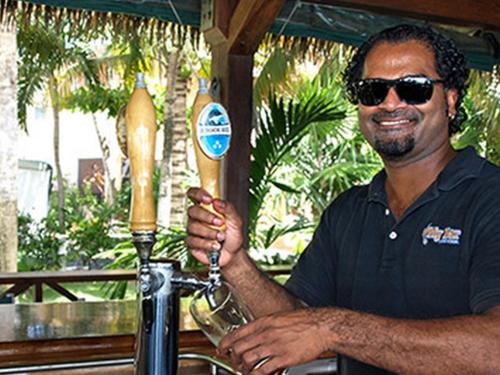 A visit to Grand Cayman, for many would not be complete without spending a few hours, at least, at My Bar. Capturing the essence of the tropics, My Bar, is a huge open-sided thatched roof bar, standing on the water's edge at Sunset House. Looking west, it's the best advantage point imaginable to watch the sun setting in a blaze of glory at the end of the day.
Voted Best Bar in the Caribbean by Caribbean Travel & Life (December 2006 issue), My Bar is one of those places that you "can not miss"! Order an infamous "Mudslide" or your favorite libation. Then sit back, relax and prepare to be overwhelmed by Mother Nature's beauty.
Thatched and cool, sea breezes drifting lazily through the shady interior. My Bar, is the Cayman Islands largest and, at times, the liveliest outdoor bar. To many people, it is the location of treasured memories, a welcoming place, where old friends renew relationships and where new friendships are formed. Appealing to young and old, locals and visitors, My Bar occupies a central place in the life of the island.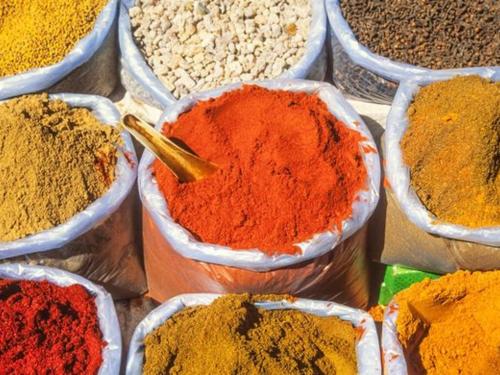 Indian food is all about variety and is an example of ancient tradition. The cuisine of the country is characterized by elaborate cooking techniques and the use of expensive ingredients. Indian cuisine was introduced to a splendid assortment during the colonial period. The colonial period introduced European cooking styles to India exhibiting British Influence on Indian Food. In that period, flexibility and diversity was introduced to the cuisine of India. The English brought not only food but also introduced various beverages. The English brought whisky to India and tea prepared with an assortment of spices such as ginger, nutmeg, cinnamon, cloves, and licorice.
Being a British Overseas Territory lends these treasures and are alive here at Sunset House! A Must Try!